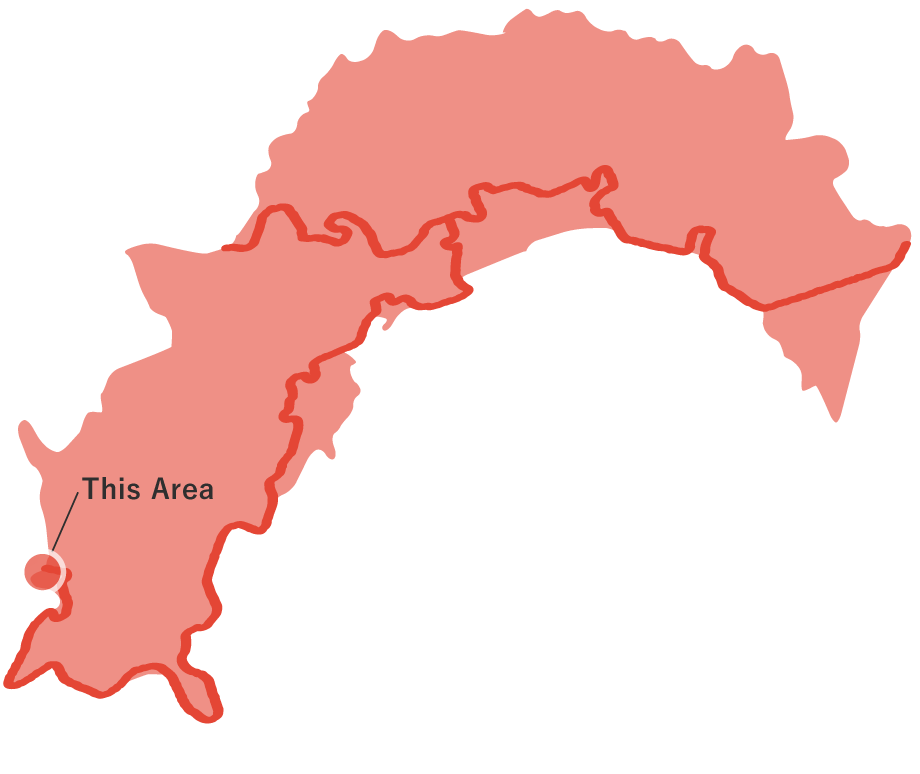 Road to Matsuo Pass
This route takes you over a mountain pass from Kobukaura, Sukumo City to Matsuo Pass, the end point of Kochi Prefecture, which leads to the "Old Sukumo Main Road Trail" in Ehime Prefecture.This is an old street where you can find the ruins of old stone paving and guardhouses, and feel the history in the form of the Daishido.From the Sumitomo Castle Ruins Viewing Platform, you can enjoy a beautiful view of Sukumo Bay.The road from the Obukaura mountain base, where there is an information board, to the base where the tangerine orchards spread out, is steep and narrow, making it difficult to access unless you have a 4WD light four-wheeled vehicle.
Road to Matsuo Pass (3.7 km)
Spots to photograph
Sumitomo Castle Ruins place name sign
If you wish to receive a certificate, please take a photo that includes yourself at the designated photo point for each course.
Nearby sightseeing spots
1

Matsuo Sakaguchi Guardhouse Ruins

In Tosa, check posts were called guardhouses.63 guardhouses were set up along the border of Tosa to check on pilgrims and travelers, and to control those who entered and left the country illegally.Since Matsuozaka was an important road connecting Iyo and Tosa, this guardhouse at the base was given special importance, and the only places where pilgrims could enter and leave Shikoku were this guardhouse and the one in Kannoura.As a result, many travelers were checked, and according to the records from 1801, the number of travelers reached 200 a day, and as many as 300 on days with high traffic.

2

Ruins of Matsunamiki (Road-side pine trees)

The entire Matsuozaka road was lined with old pine trees, which gave the Matsuo Pass its name, and passing under the large trees was a very pleasant experience.During the war, the military ordered that all lined pines be cut down to make lumber for ships, and the roots were dug up and used to make pine root oil.Traces of the digging remain in various places along the road.

3

Paved Stone Road

Since this was a major road and there was a lot of traffic, the road surface was maintained with these types of stones in places where there was a risk of soil being washed away by rainwater.During the war, most of this was removed during lumber transportation, and now only a small part of it remains.

4

Tea House Ruins

There were teahouses on both sides of the mountain pass in Iyo and Tosa, where travelers would stop for a cup of tea and relax between journeys with a spectacular view of Sukumo Bay below.The teahouses were operating until 1930, selling Japanese sweets, dumplings, straw sandals, and other such items.

5

Daishido Ruins

Since the Matsuo Pass was often traveled by pilgrims, a hall dedicated to Kobo Daishido was built and every pilgrim who passed through the pass had to visit it.The old hall remained in place until around 1948.

6

Matsuo Pass

Matsuo Pass, 300 meters above sea level, is located on the border between Iyo and Tosa, and offers a spectacular view of Sukumo Bay below.Since the road connecting Uwajima and Kochi ran through this pass, many travelers, including Shogunate envoys, passed through here.According to records from 1801, 200 people passed through on a normal day, and 300 on a days with high traffic.At the pass, there were teahouses and a Daishido where travelers could rest for a while.The stone pillars on the Iyo side marking the border were erected in 1687 and those on the Tosa side were built in the following year.It is said that the stone pillars were produced in Kochi and transported by boat to Shimoda and then by horse-drawn carriage on land.When the Shukumo Tunnel opened in 1929, people stopped passing through here, and the teahouses and Daishido that had existed at that time also disappeared.

7

Sumitomo Castle Ruins

Fujiwara Sumitomo, who was a official in Iyo, refused to return to Kyoto when his term of office was up, and instead took pirates under his wing to rebel against the Imperial Court on Hiburi Island in the Bungo Channel.In the year 941, Yoshifuru Ono, who was appointed as the chief of the attacking force, attacked this place with over 200 ships.When Suntomo, who was defeated because some of his generals betrayed him, fled to Kyushu, he hid his wife in this castle with her father, Shogen Kuriyama, the lay priest of Sadakuma.Eventually, when his wife heard that Sumitomo and his only son Shigetamaru had been attacked, she became mad with grief and died here on August 16 of that year.Today, a viewing platform is being built at this site.

8

Koyasujizo

There was a Zen temple called Anyoji here since the Muromachi period, which was closed in 1871.After the temple was closed down, Jizo Bosatsu, the main deity of the temple, was enshrined in this Jizodo Hall, which is still worshiped by those who are not fortunate enough to have children and those who wish for their children's healthy growth.