Tokushima Roads of Shikoku
Hilly area Orchard Path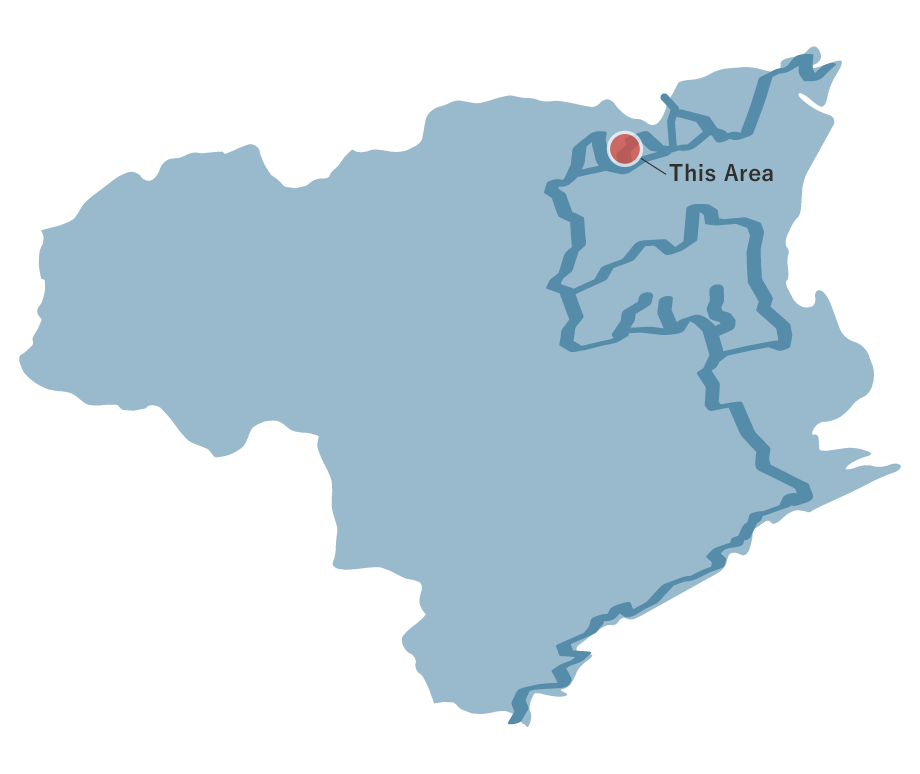 Hilly area Orchard Path
From Anrakuji Temple (Pilgrimage Site No. 6), pass through Kumano Shrine, and go around Jurakuji Temple (Pilgrimage Site No. 7) at the base of the mountain. Proceeding along the foothills, there are vineyards spread throughout an alluvial fan. Follow the farm road and tread across the fallen leaves of oak trees (Quercus acutissima and Quercus serrata) to reach the Miyagawauchi Dam site. After passing a rest area adorned with rows of cherry blossom trees, you will reach Hirama, the end of the course. Shops line the mountains of this area, which is famous for its tarai udon noodles. In the summer, sculpins squeal and create atmosphere.
Hilly area Orchard Path(7.4km)
Spots to photograph
Miyagawauchi Rest Area
If you wish to receive a certificate, please take a photo that includes yourself at the designated photo point for each course.
Nearby sightseeing spots
1

Anrakuji Temple

This is the 6th site of the 88 Shikoku Pilgrimage sites. This temple was founded by Kukai, and in the past hot springs have welled up from this area that were supposedly effective for treating various diseases. Kukai engraved a rumored statue of Bhaisajyaguru and built a hall benefiting the people and promoting national welfare,and named it the Onsen Mountain. There's the main hall, Daishido (hall for the Great Teacher), and a Sakamatsu (upside down pine tree) hand-planted by Kukai.

2

Jurakuji Temple

This is the 7th site of the 88 Shikoku Pilgrimage sites. Kukai visited this valley and received enlightenment from Amitabha. Jurakuji was supposedly founded by engraving this scene on a 1.9 m-high Amitabha statue and making it the principal image.

3

Vineyard

There is a collective vineyard on the south slope near Miyagawauchi. In an area of 35 ha, Delaware and Berry-A varieties are grown. The soil quality is suitable for viticulture, producing a lot of sweetness. The views in the vineyard are nice, and some farmers have opened a grape picking farm for tourists. Today, it is one of the leading production areas in the prefecture along with the Ichiba town and Awa town, shipping its products to markets in Kyoto, Osaka, and Kobe.

4

Okumiyagawa Uchidani Prefectural Natural Park

This natural park has an area of 1,325 ha from Donaricho Miyagawauchi to the border of Kagawa prefecture, and was designated in 1967. The natural beauty of the Miyagawauchi valley comes from being a shallow mountain with the atmosphere of a gorge. In addition, the beautiful artificial lake formed by Miyagawauchi Dam is surrounded by mountains that change with the four seasons. Besides that, it has other tourist attractions such as the Gosho Shrine with its long history, mineral springs, and tarai udon noodles, which attract many people throughout the four seasons.

5

Miyagawauchi Dam and Rest Area

The Miyagawauchi Dam is a multipurpose dam for hydraulic control and irrigation, and was completed in 1964. It's a straight gravity type dam with a total water storage capacity of 1,350,000 ㎥. There is a rest area overlooking the dam lake in one corner of the row of cherry blossom trees on the left bank of the dam site.

6

Roadside station "Donari"

The roadside station Donari on the shore of Miyagawauchi Dam Lake along National Highway 318 has restrooms, a pavilion, and the main facility, "Hospitality Hall". Hospitality Hall has an information corner that presents road and tourist information on a multi-vision display, and there is also a handmade tarai udon noodles corner.

7

Gosho Tarai Udon

It used to be a staple food for outdoor work, but now it is served in a specially made wooden basin with a diameter of about 40 cm, with thick udon noodles made from local flour. Its appealing wild and simple taste is enjoyed by 300,000 tourists a year.