Tokushima Roads of Shikoku
Vast Matsubara's Path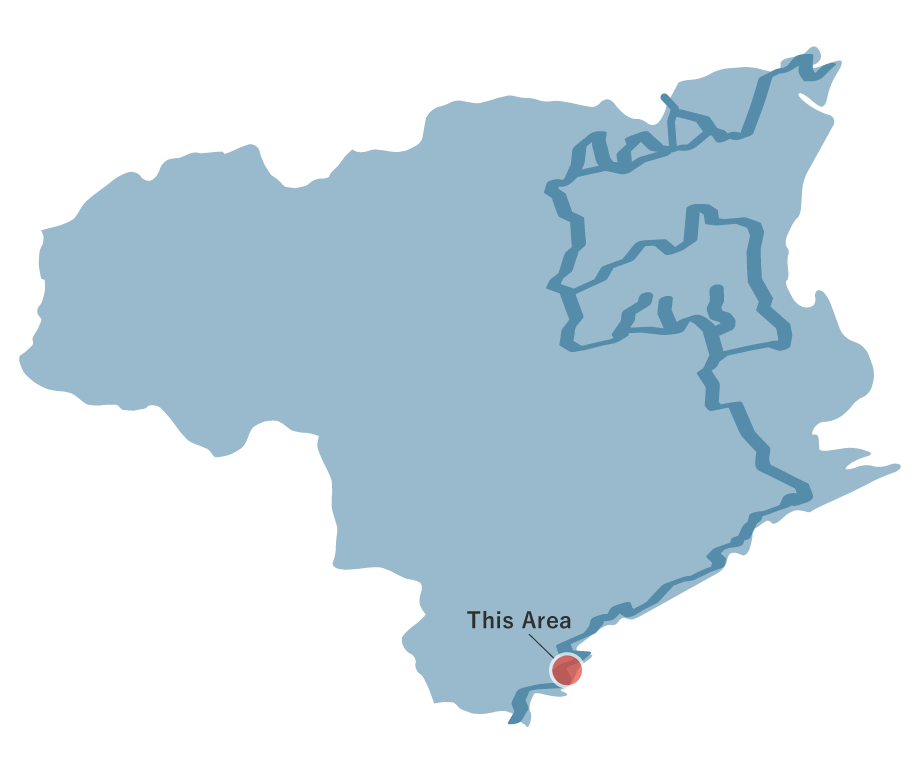 Vast Matsubara's Path
From JR Asakawa Station, go through the town of Asakawa to Asakawa Port. At the port, turn right and enter the promenade on the outskirts of the town, where you will soon reach the coast facing Asakawa Bay. Continue down a gentle sidewalk while looking at the calm Asakawa Bay. After passing Jao Shrine, you can see Ebigaike below. It is one of the major brackish lakes in Shikoku, where seawater and freshwater are mixed. If you follow the road along the ridge with a lot of ubame oak trees for a while, you will suddenly see the vast Minami Awa Picnic Park at your feet, the magnificent Osato Beach beyond that, and the rows of houses of Kaiyo Town on your right. Say goodbye to the picnic park and head to Osato Beach. Osato Beach is a coast with magnificent sandy beaches and pine forests for 4 km. Follow the coastal road to the mouth of Kaifu River, cross Kaifu River, and proceed to Tomonoura fishing port. Crossing the fishing port, passing through the town and climbing the trail to Atagoyama, the clear blue Nasa Bay and the Nasa Peninsula will appear before you. If you follow the slopes of the steep sidewalk and go out onto the national highway, JR Kaifu Station is right there.
Vast Matsubara's Path(12km)
Spots to photograph
海老ヶ池休憩所
If you wish to receive a certificate, please take a photo that includes yourself at the designated photo point for each course.
Nearby sightseeing spots
1

Osato's Matsubara

The Osato Beach, where pine groves are located, is about 1 km east of Awa-Kainan Station, and for about 4 km along the bow-shaped coastline there is literally a beautiful landscape of white sand and blue pine trees. A Hachiman Shrine is near the pine groves. The festival celebrated on October 15 every year is crowded with sekibune, parade floats, and portable shrines. It is famous as the Boat Danjiri of Osato.

2

Osato Tumulus

This is a circular burial mound with a diameter of 13 m built on the coast of Osato. The internal structure is stone chamber with a horizontal hole, constructed with megaliths. The length of the burial chamber is about 6 m, the width 1.9m, the height 2.4m. The length of the passage is about 4m. Gold rings, iron arrow-heads, high cups, flat jars, bottles, etc. have been excavated. It is the only burial mound of this period in the southern part of the prefecture, and it is a valuable archaeological site when considering the influence of the powerful tribes in this region, which is considered to be the heartland of the sea tribes. It is designated as a historical site in the prefecture.

3

Minami Awa Picnic Park

A recreation base on the shores of one of Shikoku's major brackish lakes, Ebigaike. It has facilities such as a lawn area, a campsite, and an aquatic botanical garden, where you can enjoy outdoor recreation activities with your family and friends.

4

Zao Athletic Park

It is a general sports ground with facilities such as a baseball field, all-weather tennis courts, and a game square.

5

Mazenoka

The facility is equipped with a full-scale auto camping ground, as well as toilets, showers, outdoor kitchen, and coin-operated laundry. There is also a gymnasium where you can play volleyball and badminton.

6

Kainan Cultural Village

This facility was opened as a cultural site for lifelong learning through regional and intergenerational exchanges. There is the Cultural Center with a theater hall and a conference room, a museum centered on Kaifu swords, the Crafts Center where you can try indigo dyeing and pottery making, and Sanko Center that sells food and local specialties.

7

Isaribi Forest

Located on a hill overlooking the calm Nasa Bay, it is a complex facility for users to interact with each other while getting close to nature. There are accommodations, a free tent site, and a lawn area where you can enjoy sports.

8

Giant mottled eel on the Haha River (a nationally designated natural treasure)

About 2 km upstream of the Haha River (a tributary of the Kaifu River) is a habitat for giant mottled eels. The river is wide and the water depth is 3 to 4 m, so there is little change in water temperature due to spring water. The scientific name of the giant mottled eel is "Anguilla Moniezia", and it is sometimes called "Kanikui" or "Jaunagi" in this region. Nocturnal eels can have a body length of 1.2 to 1.5 m, a waist circumference of 40 to 60 cm, and a weight of 10 to 16 kg. The giant mottled eel originates in tropical regions, and migrated to Japan on the Kuroshio Current. It has habitats in Nagasaki, Ehime, Wakayama, and Shizuoka prefectures aside from Tokushima, all of which are considered academically valuable being its northern limit.

9

Myokensan Park

The park is famous for cherry blossoms, and about 700 cherry blossoms are in full bloom during the flowering season from late March to early April. In addition, the park is the northern limit of Mitrastemonaceae, and is designated as a natural treasure of the prefecture.