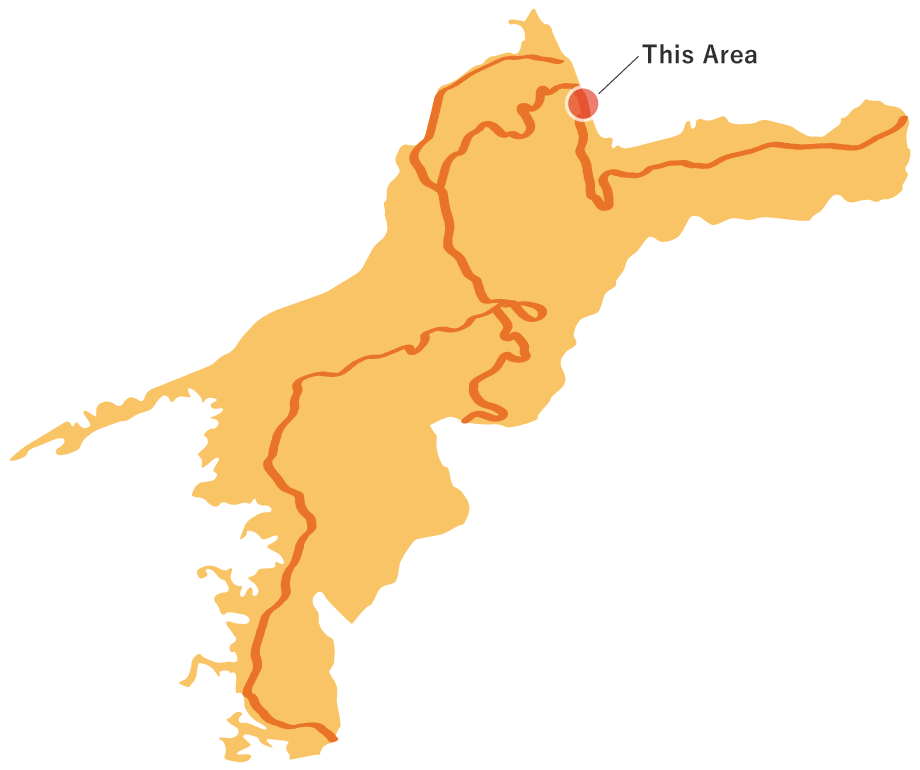 Sazanami Tansho Route
This route along the coast is rare among Shikoku's roads in Ehime Prefecture, and is a charming stroll amidst white sand and green pines. As you pass Sakurai Fishing Port from Karakohama, the starting point of the tour, you will see the beach of Shishimagahara and old pine trees. Shishimagahara is the location of Tsunashiki Tenman Shrine, which is associated with Michizane Sugawara. In the spring, the ume (Japanese apricot) garden blossoms and many students come to pray for success during their period of entrance examinations. Continuing on for a while, you will come to Sakurai Beach, which was selected as one of the 100 best beaches in Japan. This area is a perfect location from which you can see the Shimanami Sea Route to the north and Mt. Ishizuchi, the highest peak in western Japan, to the south. In the surrounding area, there are parks sports facilities and a cool house, such as Sakurai Seaside Meeting Place and Kyukamura Setouchi Toyo, and it is also ideal for hiking.
Sazanami Tansho Route(8.8km)
Spots to photograph
Odamiyama rest area "Kinuboshiiwa"
If you wish to receive a certificate, please take a photo that includes yourself at the designated photo point for each course.
Nearby sightseeing spots
1

Tsunashiki Tenman Shrine

Tsunashiki Tenma Shrine is said to have gotten its name from the fact that when Michizane Sugawara drifted ashore due to a storm on his way to Dazaifu, the villagers wrapped the ropes of his fishing boat in a circle and used it as a mat. During exam season, many test-takers come to pray for success.

2

Shishimagahara

Shishimagahara is a beach with about 2,500 old pine trees, and is designated as one of Japan's 100 best sites for white sand and green pine trees as well as a national scenic spot, and is visited by many beachgoers in the summer. It is also famous for its plum blossoms. White and red flowers bloom in the plum garden in the spring, creating a beautiful view. In addition, Shishimagahara is also connected to Sugawara no Michizane, known as the "god of learning." It is famous for its "first sunrise of the year" and "new year visit to shrine." From here, you can worship wonderful sunrises all year round.

3

Sakurai Beach

Sakurai Beach (about 8 km long) was selected as one of the 100 best beaches in Japan in 1996. A natural beach typical of the Seto Inland Sea, it is crowded in the summer with people who enjoy swimming and beach volleyball.

4

Sakurai Seaside Meeting Place

Sakurai Seaside Meeting Place is a beach park where palm trees stand in the white sand, reminiscent of a southern island resort. A sports ground with a wide field. There are excellent camping facilities and other amenities. Many people enjoy sports whether they have the day off or not. The campsite has a parking lot and toilets, and it is a very open place. Moreover, because it is close to the city, many people usually camp there.

5

Kyukamura Setouchi Toyo

Kyukamura Setouchi Toyo is located on the coast of the Seto Inland Sea with its white sand and green pine trees. The main building standing on a small hill boasts a good view and a indoor hot spring overlooking Mt. Ishizuchi, the highest sacred mountain in western Japan, over Hiuchi Nada. Pools and campgrounds are also available along the coast down the hill, providing you with a varied holiday. Mican welcomes you at the entrance.