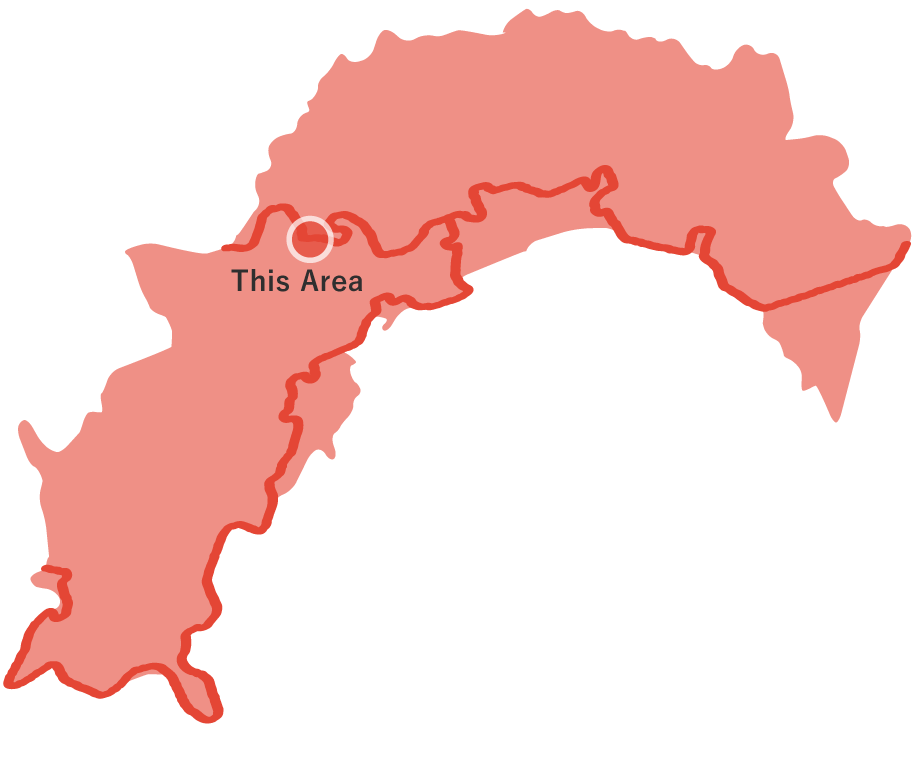 Hoshigakubo Route
It starts at the Kirimigawa bus stop in Ochi-cho, this course passes through the Hoshigakubo Rest Area and ends in the Choja district of the town of Niyodogawa. The Hoshigakubo Res Area is located within the Hoshigakubo Campground, one of the most popular camping areas in the prefecture. The name "Hoshigakubo" comes from a depression said to have been formed by a meteorite impact .Spring, Summer, Fall and Winter, each season has its own unique appearance, and the star-filled sky reflected in the pitch blackness of the sky is especially a must-see. In addition, in the Choja district of the town of Niyodogawa, which is northwest of Hoshigakubo, tourists can enjoy the original landscape of 600 neatly lined terraced rice paddies that are said to have a history of more than 400 years.
Hoshigakubo Route(6.4km)
Spots to photograph
Place name board of "Hoshigakubo Rest Area"
If you wish to receive a certificate, please take a photo that includes yourself at the designated photo point for each course.
Nearby sightseeing spots
1

Communities in the Kirimigawa Basin

The road from the Kirimigawa Bus Stop to Tashiro Oomatsu is lined with beautiful terraced fields and tea plantations.

Tashiro Oomatsu

This giant pine tree is approximately 6.3 m in diameter, 30 m in height, and estimated to be about 450 years old, and is also called "headman's pine." Although this large pine tree was one of the few in the prefecture that possessed the dignity of a royal name, it was cut down in February 1988 due to damage from pine beetles, and now only the base of the tree remains.

2

Mountain Trail to Tashiro

Approximately 100 meters west of Tashiro Oomatsu, you will come to the entrance of the mountain road to Tashirokoshi.
From here, after passing through stone-piled fields for about 200 meters, you will reach a mountain road. The mountain trail continues for 3.3 km to the Hoshigamochi Rest Area, and is dotted with 88 miniature sites along the way.

3

Hoshigakubo Rest Area

Legend has it that it became to be called "Hoshigakubo" because of a depression created by the impact of a meteorite long ago. In July 1963, Hoshigakubo was designated as the prefectural model campground as a place for sound outdoor learning for young people. In the autumn, cosmos flowers are in full bloom, and to the west Mt. Torigatayama can be seen.

4

Chojya no Oicho

This large Oicho has a circumference of 10.8 m, a height of 15 m, and is 1,200 years and in January 1953, it was designated as a natural monument of the prefecture. Originally, the tree was a magnificent three-trunked tree 40 m tall, but in the Bunka era, one of the trunks was used as lumber for the renovation of Juo-Do. Then in 1913, a fire burned more than 9 meters above the ground.
Also, a typhoon in 1915 toppled one of the other trunks from 6 meters above the ground, but the tree regained its former strength and became like a forest all on its own. However, in 1970, the canopy of the tree was severely damaged by Typhoon No. 10, but strangely enough, the tree's condition has continued to deteriorate to the present day. (Chojya Juo-Do And Oicho)