Tokushima Roads of Shikoku
White Sand and Sea Turtle Path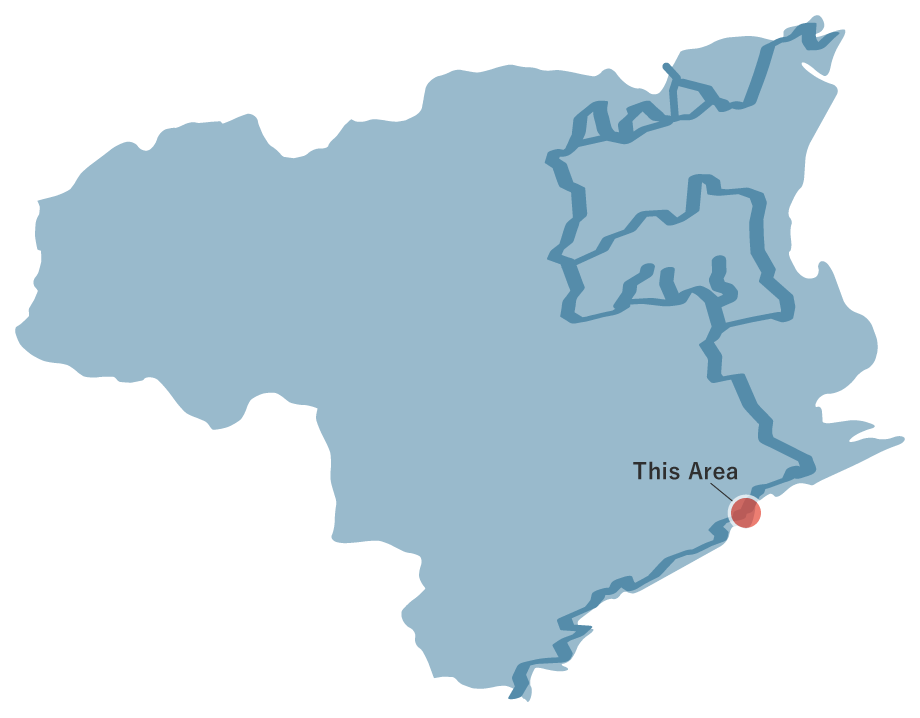 White Sand and Sea Turtle Path
After passing through the open fields of the port town where the eaves meet, you will reach the Ashizuri Observation Deck, where you can see black pine trees and the endless blue of the Pacific Ocean. Tainohama, the iconic symbol of Yuki, is a long stretch of white sand that's perfect for barefoot walk. You can sight many people who seem to enjoy rock fishing offshore on Nunojima and small reefs. The route passes from Manishi Shrine, through the small fishing port town of Kiki and then reaches Shirahama. Tainohama and Shirahama beaches attract many people in summer for swimming. From Yamaza Pass, the route descends through a farm road and enters a small fishing village. Further through a forest of ubame oak trees, the route takes you to Asebinohana Lighthouse to a beautiful view of the town of Hiyorisa through the trees. You pass Ebisuhama from Ebisu cave on the way to Ohama Beach which then leads to Hisawa town. This beach is a well-known loggerhead turtle landing and spawning site.
White Sand and Sea Turtle Path(16.3km)
Spots to photograph
Asebinohana Rest Station
If you wish to receive a certificate, please take a photo that includes yourself at the designated photo point for each course.
Nearby sightseeing spots
1

Tainohama

The beach open in early July for swimmers, when plethora of beach flowers including Hibiscus hamabo, round leaf chaste tree, and shiogiku greet the spring. Swimmers flock the beach as soon as it opens. This white sand beach is one of the best in western Japan famous for its shallow, fine quality waters. Seasonally changing appearances of the sandy beach and the ocean is main attraction for tourists to visit the place all year round.

2

Ebisu Cave

The raging waves of the Pacific Ocean have eroded the coastline around Hiwasa, forming numerous small and large sea caves. Ebisu Cave is a 32 meters wide and 31 meters high semicircular structure that pierces a 52-meter-high rocky hill. Raging waves crash in and make roaring sound of seawater that gushes into the cave, which is a quite stunning sight. It has a lookout on the mountain, and Ebisudo Shrine enshrines a paper of marital harmony.

3

Ohama Beach and the sea turtles of Hiwasa

The southern coast of the prefecture has numerous submerged, deeply indented coastline, and Ohama Beach is one of them.
This white sand beach, about 40 meters wide and 500 meters long, opens into an arch, with a forest of aged pine trees is in the background.
It is known as a spawning ground for sea turtles since long ago, and the Turtle Spawning Ground on Ohama Beach is a nationally designated natural treasure. The large loggerhead turtles that arrive ashore have a shell length of about 1 meter and weigh about 100 kilograms. These turtles begin to visit the coast around early May and disappear by the end of August.

4

Hiwasa Chelonian Museum Caretta

This museum offers a combination of exhibits on educational materials regarding sea turtles and their breeding. You can enjoy learning about aspects like the origin and evolution of turtles, existing sea turtles in the world, and the egg-laying behavior of loggerhead turtles.

5

Yakuoji Temple

The Yakuoji Temple is famously known as the 23rd sacred site of the Shikoku Pilgrimage and is known to ward off evil. In the 6th year of Konin (815), Emperor Heizei is said to have issued a private order to Kobo Daishi to establish Bhaisajyaguru (Healing Buddha) as the principal image of worship to ward off evil. There are three "unlucky" slopes along the path leading to the shrine. One letter of the Yakushi Hongan-kyo Sutra has been marked on the bottom of each stone and buried under each stone step. It is said that you can protect yourself against misfortune by praying to cleanse yourself of evil influence by offering coins on each stone stairway.