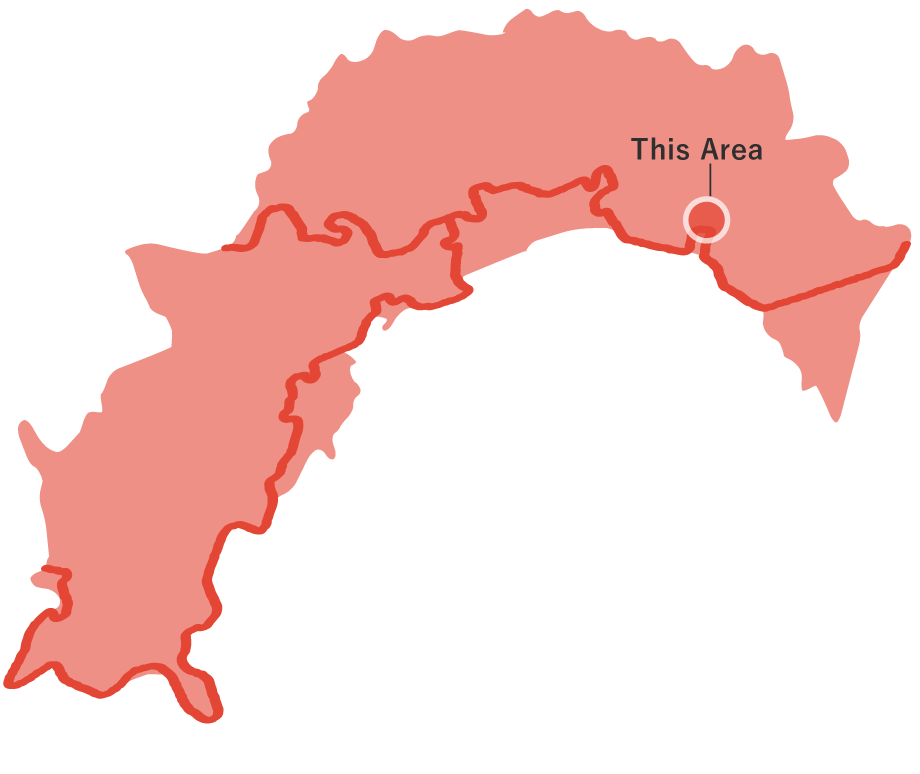 Aki Hometown Road
"Aki Furusato Road" is located in the plains of the Aki River basin, and the trail is almost flat, so you can easily see many cultural and historical sites including the ruins of samurai residences, the birthplace of Yataro Iwasaki (founder of the Mitsubishi conglomerate), the Nora Dokei built in the Meiji period, and the Aki City Calligraphy Art Museum, which opened in 1982 as the first public art museum in Japan. In addition, around 1892, "Uchiharano ware" (a method of baking pottery such as sake bottles and mortars with a glaze made from wood ash and straw ash, giving it a warm and rustic texture) was created near Uchiharano Park in the east of Aki City. It is currently on display at the Uchiharano Pottery Museum, and there is also a facility where you can casually try out pottery.
Aki Hometown Road(11.7km)
Spots to photograph
Signboard of "Birthplace of Yataro Iwasaki"
If you wish to receive a certificate, please take a photo that includes yourself at the designated photo point for each course.
Nearby sightseeing spots
1

Aki City Calligraphy Art Museum

Calligraphy has been flourishing in Aki City since ancient times, producing many excellent calligraphers. It opened in 1982 as the first public art museum in Japan. The number of collections is about 1,600 and about 100 are displayed in permanent exhibitions, and the "Aki National Calligraphy Exhibition" is held every year as a public exhibition.

2

Aki Castle Ruins

The ruins of Aki Castle are located in the northeast of the Doi Kachu Samurai Residences. Earthworks were built on the outside of the castle, and a moat surrounds it, allowing a pursuer to see the remnants of the majestic stone walls. This area is called "Doi Kachu Samurai Residences". Surrounded by hedge bamboo and ubame oak hedges, the samurai residences still remain in this area, which even now exudes a tranquil atmosphere.


3

Nora Dokei

It was a rooftop clock tower built by Genma Hatanaka in 1897. It served to tell the time to the surrounding farmers. Currently, the clock is operated with the cooperation of the owner during the tourist season and events. Nora Dokei is a private residence, so the inside is not open to the public. Parking and toilets are available nearby.

4

Aki Region Park

This park was created with the aim of providing a place that promotes physical and mental health, in contact with the outstanding local culture and abundant nature. The park is divided into two zones, a "River Zone" designed for interacting with the Anki River (a symbolic river of the community), and a "Village Zone" based on mountain scenery with playground equipment that can be enjoyed by families. Especially in the village zone, there is a roller slide facility in the style of the Nora Dokei and an obstacle course in the style of an "eggplant", a specialty of Aki City. It is affectionately known by the locals as "Eggplant Park".

5

Uchiharano Pottery Museum

The Uchiharano Pottery Museum is located within the park, and there is also a facility where you can try out making pottery and glass crafts. Uchiharano-yaki is pottery fired in Uchiharano (Aki City, Kochi Prefecture). Around 1829, the first kiln was opened in Uchiharano, and it mainly produced daily necessities such as sake bottles and mortars. It is characterized by its warm and rustic texture, which uses a glaze made from wood ash and straw ash.

6

Uchiharano Park

This park in eastern Kochi Prefecture is famous for its azaleas. From spring to early summer, azaleas, irises, and cherry blossoms are in bloom, pleasing the eyes of visitors. Benten Pond in the park is popular as a place for citizens to relax and enjoy boating. In March 2010, it was selected as one of the "Top 100 Reservoirs" by the Ministry of Agriculture, Forestry and Fisheries.

7

Birthplace of Yataro Iwasaki

Yataro, who was born in 1834, spent an eventful childhood in this area. This thatched roof house, which has survived 200 years of wind and snow, is a valuable piece of folklore, and the inner garden is adorned with garden stones that are said to represent the eight states of Japan.


8

Joteiji Temple

Founded by his grandfather, Bingonokami Motochika, to mourn Aki Kunitora, who was defeated in a battle with the Chosokabe army and took his own life. It has become the family temple of the Aki clan. Kunitora's tomb is a prefectural historic site, and the temple gate, which was rebuilt in the middle of the Edo period, is designated a tangible cultural property of the city.