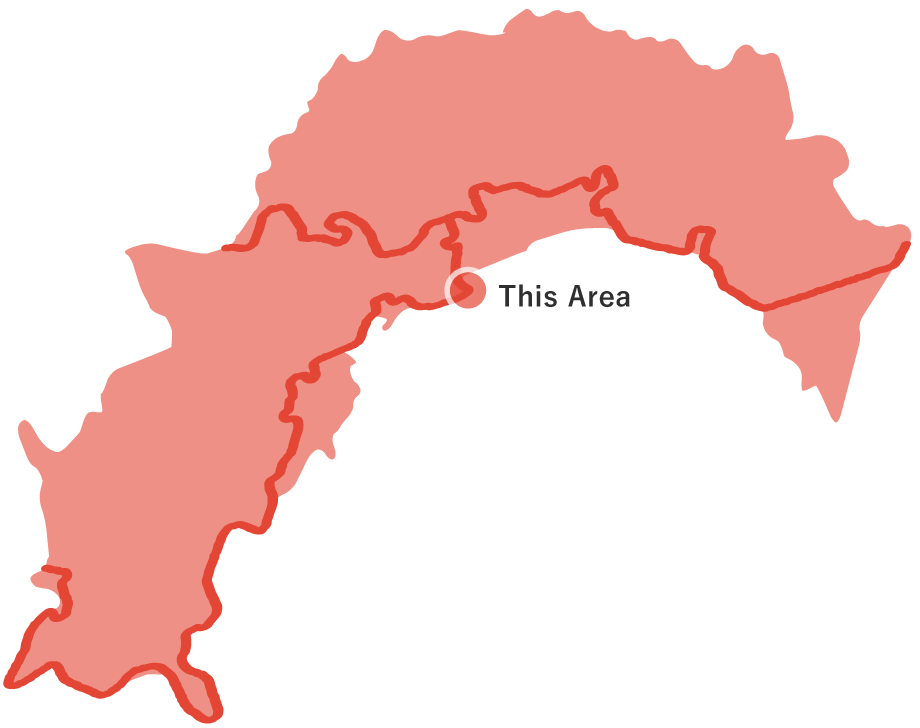 Cliff Road
The Cliff Road from Susaki City to Kure (Nakatosa-cho) is not long at 9.2 km, and the trail is flat. You can walk while enjoying the wonderfully contrasting scenery of the sea and the mountains, so take your time. The trail stands out for its spectacular views even among the rest of the Shikoku Road in Kochi Prefecture, so it will surely be a memorable trail for everyone who walks it.
The final stop is the town of Kure. Kure has long been a fishing town known for its pole-and-line fishing method for bonito. There is a nostalgic atmosphere, seeing fishermen houses lined up around the cove where fishing boats are anchored. In 2011, it became the first fishing town to be designated as an "Important Cultural Landscape" by the government.


Cliff Road(9.2km)
Spots to photograph
Signboard of Futana Islands
If you wish to receive a certificate, please take a photo that includes yourself at the designated photo point for each course.
Nearby sightseeing spots
1

Awa Coast

The closest station to the Awa Coast is Awa Station on the JR Dosan Line. The Awa Coast is known not only for its swimming beaches, but also as a spot for casting (fishing). If you climb the hill, you will encounter a superb view that contrasts the sea and the mountains. "Cliff Road" is a route that goes south along the coastline (which was an old national highway), so you can walk while looking at the magnificent Pacific Ocean. Be careful when it rains or after stormy weather, as there are many falling rocks.

2

Futana Islands

A pair of islands that float in Kure Bay are called "Futana Islands," one of the 10 scenic views of Tosa. It is said that once upon a time, demons from Onigashima brought two large rocks to help the people of Kure who were suffering from large waves.
Each of the two islands has the name "Kannonjima" and "Bentenjima," and each island enshrines "Kannon-sama" and "Benten-sama." These two islands are connected by a footpath, so you can walk across.

3

Kure Hachimangu Shrine

The Kure Hachimangu Shrine lost its records due to the tsunami caused by the 1707 Hoei Earthquake, so its detailed history is unknown, but it has long been revered by people involved in the fishing industry as a guardian deity of the sea. The current shrine building was rebuilt in 1825 and is designated as a tangible cultural property of Kochi Prefecture.