Road through Water and Forest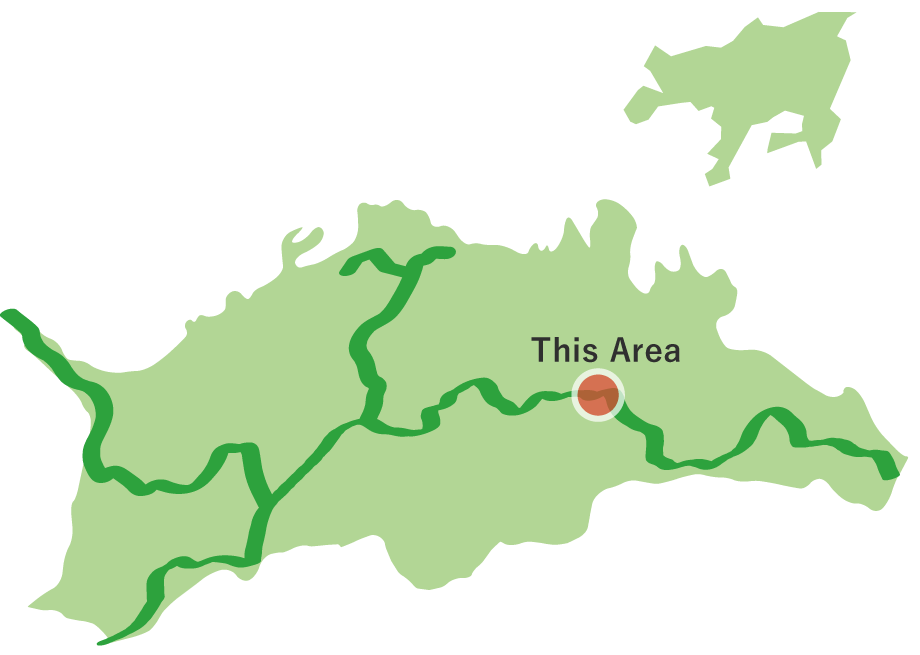 Road through Water and Forest
Mizu to mori o meguru michi is 22.3 km long, so it is divided into three courses according to convenience.

1. Ryuman pond to Fujio Shrine Course...7.0 km
2. Fujio Shrine to Kinbuchi Forest Park Course...7.6 km
3. Kinbuchi Forest Park to Suwa Shrine Course...7.7 km

Topographically, Course 1 and 2 have slight undulations, while 3 is a course with no undulations. All the courses take about 3 hours while walking leisurely and taking breaks. Get in touch with the rich nature and refresh both your mind and body.
Road through Water and Forest(22.3km)
Spots to photograph
Name board and guidepost for "Jinnaimai Pond', name board of "Matsuo Pond", name board of "Yamadaiji Pond"
If you wish to receive a certificate, please take a photo that includes yourself at the designated photo point for each course.
Nearby sightseeing spots
1

Kawahigashi Hachiman Shrine

Located near the top of Mt. Abura in the northeast of Ryuman Pond, and enshrines Emperor Ojin, Emperor Chuai, and Empress Jingu. A beautiful and peaceful shrine with stone steps leading up to the shrine. If you climb the stone steps leading to the main shrine, you can see beautiful scenery such as Ryuman Pond, Takamatsu City, and the Sanuki Mountains. Ryuman Pond is a famous cherry blossom spot that has been selected as one of the New Sanuki 100 Views and the rows of cherry blossom trees along the road that stretches straight toward the center of the pond are so beautiful.

2

Fujio Shrine

It was built during the Yoro era (717-723) to enshrine Emperor Ojin. It is famous for its tropical primeval forest and giant wisteria trees. There are many insects and birds, and it is designated as a nature conservation area in Kagawa Prefecture. You can see the beautiful scenery of water and forest below from the observation deck next to the worship hall. There are rows of maple trees that stretch for about 700 meters along the prefectural road. It's a place you'll definitely want to visit during the fresh greenery of spring and the autumn leaves.

3

Acorn Land

It is a large forest of 31 ha centered around the visitor center on the east side of Fujio Shrine. Events such as craft classes and forest activities are held throughout the year. There are also events for families and small children. Experience the rich nature and rediscover the attractiveness and enjoyment of Satoyama.

4

Matsuo Pond

A large pond surrounded by beautiful forest. You can see many ducks and waterside birds such as kingfishers. Many other valuable insects are also inhabited. At a rest area at the pond, take a break while listening to the song of wild birds.

5

Kinbuchi Forest Park

It is a Kagawa Prefectural forest park with a total area of about 124 ha surrounded by water and forest. It has a lawn park or children's playground, rest house, youth forest, promenade, and campsite, and many people from children to the elderly visit it. It is also famous as a cherry blossom viewing spot especially for Yoshino cherry. You can enjoy the scenery of the four seasons while walking in the park and you will also be able to refresh your mind and body.

6

Mt. Takesan

Although it is only 204 m above sea level, it is a mountain with an unusual shape that can be seen well even from a distance, and it has become a symbol of Miki town. There is a torii gate at the top of the mountain, which has been selected as one of the top 100 New Sanuki. Yamadaiji Pond on the east side of Mt. Takesan creates a beautiful landscape in harmony with the mount.

7

Suwa Shrine

It is a shrine with a good legend that Suwa Myojin of Shinshu was invited and enshrined as a guardian deity. There is a rest area, and it is a place of relaxation surrounded by greenery