The Old Pilgrimage Road/Kashiwazakagoe Road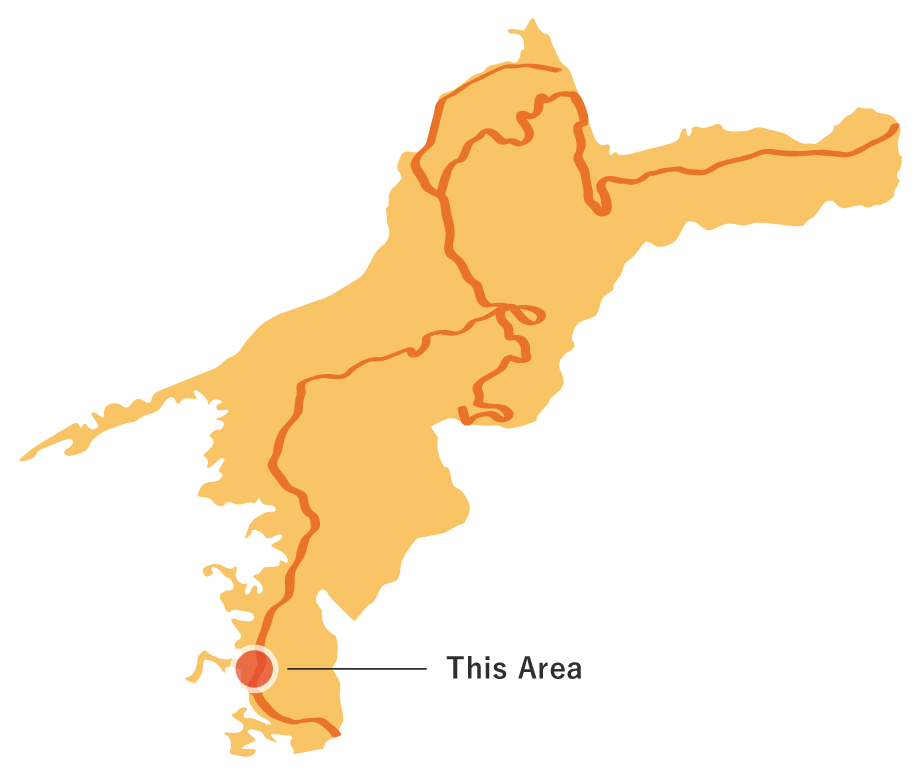 The Old Pilgrimage Road/Kashiwazakagoe Road
This is the second trail of the Shikoku Road in Ehime Prefecture. National Route 56 is the starting point. Walk along the riverside lined with oak trees for a while and you will reach the trailhead. From the trailhead, go up Kashiwazaka and pass by Yanagimizu Daishi, Kashiwazaka Rest Area, Settai-matsu, Tsuwanaoku Lookout, and Chado Daishi (Chado Rest Area). It ends at the Daimon bus stop in Uwajima Tsushima-cho. This trail is about 10 km. It is mountainous from the trailhead to the end. Be sure to bring enough food and drinks. Poet Ujo Noguchi liked this area and some of his poems are exhibited by local people.
One highlight of this route is the grand views from Tsuwanaoku Lookout. Enjoy the dynamic views of Yura Peninsula sprawling above your line of sight. Along the trail are flora like ubame oak and Japanese bayberry. Near Yanagimizu are cedar and cypress trees. There is also a forest of mainly Japanese red pine. Every autumn, the "Trekking the Kukai Ainan" event is held here. It's a very popular event that you can join too. Enjoy refreshments too.

The Old Pilgrimage Road/Kashiwazakagoe Road(9.8km)
Spots to photograph
Yanagimizu's Daishi Hall [Kashiwazaka Rest Spot]
If you wish to receive a certificate, please take a photo that includes yourself at the designated photo point for each course.
Nearby sightseeing spots
1

Yanagimizu Daishi and Kashiwazaka Rest Area

When Priest Kobo Daishi visited here, he wanted to quench the thirst of travelers. So he tapped his cane on the Yanagi (willow) tree root and sweet water gushed out. The tree was thus named "Yanagimizu" (Yanagi tree of water). The water quenched the thirst of travelers and watered the fields of Kashiwa. Amid forest trees where sunlight peeks through, there is a small stone statue of a priest. No one knows when it was made or by whom, but the dignified face and quality of the statue suggest that is it a high-ranking priest. Kashiwazaka Rest Area has a gazebo, benches, and restrooms provided by local people.

2

Shimizu Daishi

One summer when a young maiden came here on a pilgrimage, she got so thirsty that she collapsed. That's when Priest Kobo Daishi appeared and shook the young maiden to wake her up. He also told her to dig the roots of the nearby sacred anise tree. Then he disappeared. When the young maiden regained consciousness and dug up the sacred anise tree roots, pure water gushed out. She drank the water and got well. Every year on July 3rd of the lunar calendar until 1940, sumo wrestlers from the nearby village would perform sumo as an offering with many people watching.

3

Settai-matsu

One day, a person with a bad leg was riding on a wheeled cart pulled by about 50 people with a large rope. When the cart reached this place, there was a sudden gust of wind and the person thought the large pine tree curled like a snake would smash the wheeled cart. So he got out and ran away from the cart. That's when his bad leg was cured. In the old days on Priest Kobo Daishi's memorial day, local people served tea and confections here to pilgrims. However, the famous Daimatsu pine tree was cut down in 1955. It is now only a decayed stump.

4

Tsuwanaoku Lookout

At an elevation of 480 m, this lookout has panoramic views of Uwakai Sea. On sunny days, you can see as far as Cape Sada and the smokestacks of steel factories in Saganoseki, Oita Prefecture and Mizunokojima Lighthouse. Visitors here on sunny days express amazement at the views. The Yura Peninsula can be seen extending above your line of sight. Yura Peninsula is regarded as small, but its dynamic shape is impressive. There's even a legend of a serpent living there and you might even be convinced. Tsuwana is a plant called "Tsuwabuki" (Japanese silverleaf).

5

Chado Daishi and Chado Rest Area

After walking up the steep slope of Kashiwazaka, there is gradual downward slope toward Uwajima Tsushima-cho. You will soon see a small village. There is small shrine called "Chado" housing a wooden statue of Priest Kobo Daishi. On the festival day of the 21st, local villagers continually offer incense to the Chado. The Chado Rest Area has a gazebo and benches.