The Pilgrimage Road to the Home of Uwa Culture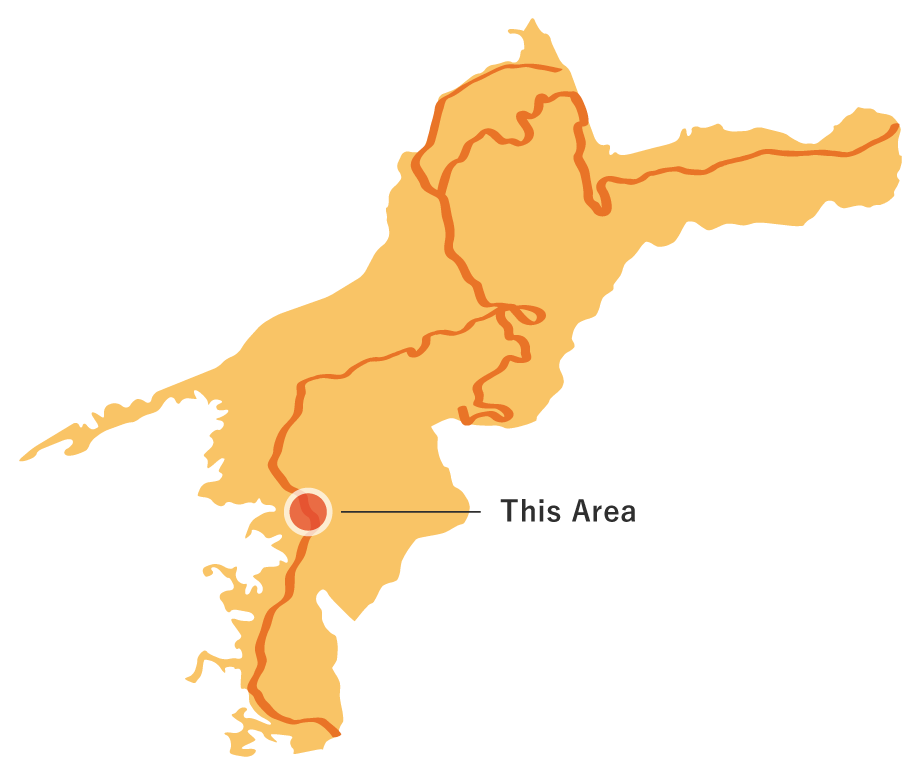 The Pilgrimage Road to the Home of Uwa Culture
In Ehime Prefecture, the fifth course, the "The Pilgrimage Road to the Home of Uwa Culture
course," starts from Hanagatouge Pass. With the disaster from the heavy rain in July 2018, a part of this course (from Hanagatouge Pass to the Hanaga Bridge resting area) became overflown, and it became unable to walk through it. As a result, for the disaster struck section, please use the Prefectural Road 31 Uwa Mima Sen Rd. This course passes the Hanaga Bridge resting area and while overlooking Uwagawa river on the left side, passes near the Ehime Prefecture Museum of History and Culture, and Meisekiji temple then heads to the center of Uwa Bunka no Sato, which is famous as the birthplace of the female doctor(Ine Kusumoto: Philipp Franz von Siebold's daughter.)
In Uwa Bunka no Sato, you can still find the old townscape that reminds you of the Bakumatsu period, with the former dwelling site of Keisaku Ninomiya and a hideout of Choei Takano. Among them, the quasi western-style primary school building that was built in 1882 (Meiji 15), "Kaimei School," is a modern school building with white walls and arch-shaped windows. It is especially eye-catching along with the churches in the Taisho period. At the time, this school was seen as the symbol of civilization and enlightenment, and there were endless visits by visitors here.
Currently, it is a Museum of Educational Materials and exhibits textbooks. With a reservation, you can also participate in a Meiji style class as well. Within the premises, there is also the Museum of History and Folklore, where it exhibits "Goko" Shingido, which is the former Kaimei School as well as exhibitions of archaeological materials.
After you go down the stone pavements, you will reach the post town of the Uwajima Domain, which was busy as a traditional country town, and you can see the "Unomachi townscape" here designated to be Japan's important preservation district of historic buildings. Walking through the humble town with unique designs such as beautiful lattice doors on white walls, bracketing, and decorative tiles, you can find old ryokans that famous historical figures like Tsuyoshi Inukai stayed at. It is a cultural town where you can feel a sense of Romanticism of history.
The Pilgrimage Road to the Home of Uwa Culture(11.3km)
Spots to photograph
Kaimei School
If you wish to receive a certificate, please take a photo that includes yourself at the designated photo point for each course.
Nearby sightseeing spots
1

Hanagatouge Pass tunnel resting area

There is a small arbor built here. The old route from here to the west has been blocked due to the heavy rain disaster in 2018. Please take the Prefectural Road.

2

Hanaga Bridge resting area

There are small arbor and a bench. It's a perfect resting spot.

3

Meisekiji temple

Meisekiji temple is the 43rd temple regularly visited by pilgrims. Currently, this temple is called "Meisekiji." However, the original name used to be "Ageishiji" This name derived from the song "Karuku Ageishi," a story about a young and beautiful goddess long ago that made a wish to move a large stone to the mountain. As she was moving it deep at night, time passed, and the sun rose, which made her surprised and vanished.
The temple has rare red tiles on the main gate of the temple and the main temple building. On the festival day in August, many people gather from different regions.


4

Ehime Prefecture Museum of History and Culture

The museum opened in November 1994. The purpose of this museum is to research and study the collections of a variety of materials regarding Ehime's history and folklore and introduce them through exhibitions. Another aim is through various educational activities to promote awareness, provide people with opportunities to learn about history and culture, and contribute to the generation of individuality rich cultures. There are events where kids can try playing like in the old times, as well as try on some costumes from the times to get small children to be interested in history and culture. There are also special exhibitions about four times a year, historical/cultural classes, seminars, as well as seasonal events. These initiatives are designed so that people of a wide range of age groups, from adults to children, can be familiar with history and culture. Their new regular exhibition exhibits the Washi sculptor, Kiyoharu Uchiumi, who depicted the life of Kobo Daishi Kukai using groups of Washi dolls. The exhibition is called "Mitsu●Sora to Umi―Kiyoharu Uchiumi Exhibition."

5

Kaimei School

This school is a quasi-western style that was built in 1882 (Meiji 15) with donations from the townspeople. German-made glasses are installed on arch-shaped windows, and it reflects the passion that the townspeople had towards education, trying to achieve civilization and enlightenment.
Currently, it is the Museum of Educational Materials. It holds and exhibits about 6,000 materials such as precious wall charts in the early Meiji period and other materials up to the early Showa period. It is also the sister museum of the "former Kaichi School" in Matsumoto City, Nagano Prefecture, and have interactions.
Here, you can observe the "Shingido," (the former building of Kaimei School built in Meiji 2) used as Goko as well as the second school building, the "Museum of History and Folklore" where it exhibits archaeological materials uncovered from the town.

6

Uwa Museum of Folk Tools

The museum stores and exhibits about 6,000 folk tools that were actually used in this town from the end of the Edo period to the early Showa period. It is a museum that passes on the wisdom and philosophy of people in the past regarding festivals/life/trade to now.
Other than the regular exhibitions, the machiya on the first floor holds seasonal exhibits for "Ohinasama" (girl's festival) as well as "the Boys' Festival." There is an exhibition room that reproduced a photo studio at the time, and you can take a picture here wearing clothes from the old times here. In the lobby, you can listen to the records of pop songs in the Showa period, and there is also an area where you can try a pedal sewing machine made in Taisho 12. There are many areas like these where you can actually touch the objects. It's a place where you can meet the fondness of the good old times.

7

Uwa Rice Museum (the former Uwamachi Elementary School)

It is a museum that used the Kaimei School's primary school building that was built in 1928 (Showa 3). There are exhibitions regarding rice makings, such as rice plant specimens and different farm equipment that people used to use over the times. Also, the pillar-less corridor in the first school building that stretches for 109 meters is a must-see. On this 109-meter corridor, people can try doing the "wiping the floor challenge," and after you complete, you are presented with an official certificate with your record.

8

The remains of the house of Keisaku Ninomiya the birthplace of the female doctor Ine

Keisaku Ninomiya(1804 to 1862)was born in Honaicho's Isaki. In 1819 (Bunsei 2), when he was 16, he went to Nagasaki to study to be a doctor practicing Western medicine. In Bunsei 6, when Siebold came to Japan, Keisaku became his pupil and learned at the Narutakijuku. In 1829 (Bunsei 12), he was jailed for being involved in the Siebold Incident. In 1830 (Bunsei13), he was sentenced to "prohibition from entering Edo and banned from Nagasaki," so he was driven out of Nagasaki and returned to his hometown. In 1833 (Tenpo 4), when he was 30 years old, he started practicing as a doctor practicing Western medicine in Unomachi (a section of Nakamachi) with the order of Uwajima Domain's lord Munetada Date. Of Siebold's pupils, he was one of the top surgeons and became a renowned scholar in Dutch academics and saved many patients. Also, the story of the old man's compassionate medicine is still passed on to this day.
In other areas, Keisaku told the townspeople about his kaikoku shinshu (the need to open the country to the outside) philosophy, and the town quickly opened its eyes to civilization and enlightenment. Keisaku opened a Rangaku Juku (Institute for Dutch Studies) at his home in Unomachi and trained many pupils. Among them were Morobuchi Mise and Siebold's daughter, Ine as well. Ine learned general medicine from Keisaku, and Uwacho became Japan's birthplace of Japan's first female doctor in Dutch medicine. In 1849 (Kaei 2), Keisaku took in and hid Choei Takano in a building detached from his house, and this hideout has been designated as the Prefecture's historical landmark.

9

Choei Takano's hideout

Choei Takano(1804 to 1850) was born in Mutsunokuni, Mizusawa. In 1839 (Tenpo10), he was jailed for "Bansha no Goku." In 1845 (Koka 2), he broke out of jail when there was a fire there. Escaping the pursuit of the Bakufu, in 1848 (Kaei 1), he received protection from Uwajima Domain's lord Munenari Date. He changed his name to Zuikei Ito and snuck into Uwajima, where he made a significant impact on future studies. In the spring of 1849 (Kaei 2), he went to Unomachi to ask for support from Keisaku Ninomiya, who was a student friend under Siebold. In the summer of that year, Keisaku took Choei, who revisited Unomachi in and hid him on the second floor of the building detached from his house in the backyard. It is said that this hideout had six and three tatami space rooms on the first floor, a four and a half tatami space on the second floor, and the stairs were made between three tatami spaces. After that, it was renovated to be a single-story building and is preserved to this day. It is a wooden one-story building with tile-roofing, with the frontage: 3.6m, depth: 2.7m, and the floor area: 9.7 square meters. There are a large alcove and a closet, and there are two paper sliding-doors and sliding shutters on the north and the south side. (Referenced from Ehime Prefectural Board of Education Cultural Property Protection Division 1993 "Ehime no Bunkazai," Ehime Prefectural Board of Education)